Sunsoil CBD is known for full spectrum CBD oils. The company develops everything in house and everything is spearheaded from cultivation to extraction of the hemp plants, and from the manufacture to the production of CBD oils. Their hemp farms are in Vermont and their oils are subjected to 3 testing rounds by third party laboratories. Another advantage of Sunsoil is that its products are comparatively budget friendly in the CBD market. So keep reading Sunsoil CBD review.
About sunsoil cBD review
Sunsoil was known as Green Mountain CBD. It was founded in 2015 by hemp entrepreneurs Alejandro Bergad and Jacob Goldstein.
Its mission entails making safe and good quality CBD oils that are also accessible to all. Hence their products are made through simple processes with only necessary additional ingredients. It's a great brand if you are looking to start using CBD products and are testing waters.
The CBD oils undergo rigorous tests. Additionally they are also subjected to 3 rounds of in house as well as third party laboratory testing. This process of double check is a clear indication towards their commitment to quality. The products fall in the lowest price category in the CBD market with $0.05 per mg.
It is also committed towards eco-friendliness through organic farming practices and extraction methods of CBD that have the lowest impact possible.
How Does Sunsoil Undertake Farming and Sourcing of Hemp?
Sunsoil grows its own 100% organic hemp in its farms in Hardwick, Vermont. This hemp is grown without any use of pesticides and is non-GMO as well. The extraction method that Sunsoil uses is worth mentioning, which is called lipid extraction. In lipid extraction the CBD oils are extracted by using a lipid combined with heat. This lipid is either MCT oil for their tinctures or organic coconut oil for capsules and salve.
This unique lipid extraction method is beneficial as it enhances the bioavailability of CBD if it is consumed along with the lipid. Bioavailability is nothing but the amount of CBD that is absorbed by your bloodstream. Since MCT or coconut oil are used for hemp extraction the resulting products have greater bioavailability.
After the extraction stage, Sunsoil sends its oils to a third party laboratory for testing in order to confirm the CBD concentration and product safety. After the results, the company tweaks the concentration per the requirement so that the desired amount of CBD is obtained. The oils are sent for testing again for a second time. At last Sunsoil's pharmaceutical grade robots manufacture the finished products that are then sent for distribution.
Sunsoil Product Line
Sunsoil CBD products are broad spectrum, which means that the oils, apart from containing CBD also have other useful cannabinoids, such as CBC, CBN, and THC. Also, the oils have terpenes and other beneficial compounds. These other compounds along with CBD work to create what is known as the entourage effect. Research shows that these other rich cannabinoids enhance the medicinal properties of CBD.
It is necessary to mention that Sunsoil CBD oils contain the legally acceptable limit of THC, which is 0.3% or less, hence they may trigger a positive test result for a marijuana traces in your system, if you undergo regular drug testing. For the most optimal output, all the Sunsoil products should be kept at temperatures of less than 74 degrees fahrenheit. They can even be refrigerated or frozen. The company also recommends this. The brand suggests taking a dose every 4 to 6 hours for any of the products in its selection.
Though there are no dedicated CBD oils for pets offered by Sunsoil, the brand suggests that their non flavored tincture and topical salve can be used on pets and animals after consulting with a veterinarian. However, do explore this link if you want to check out a great CBD brand specifically focusing on CBD products for pets and animals.
CBD tinctures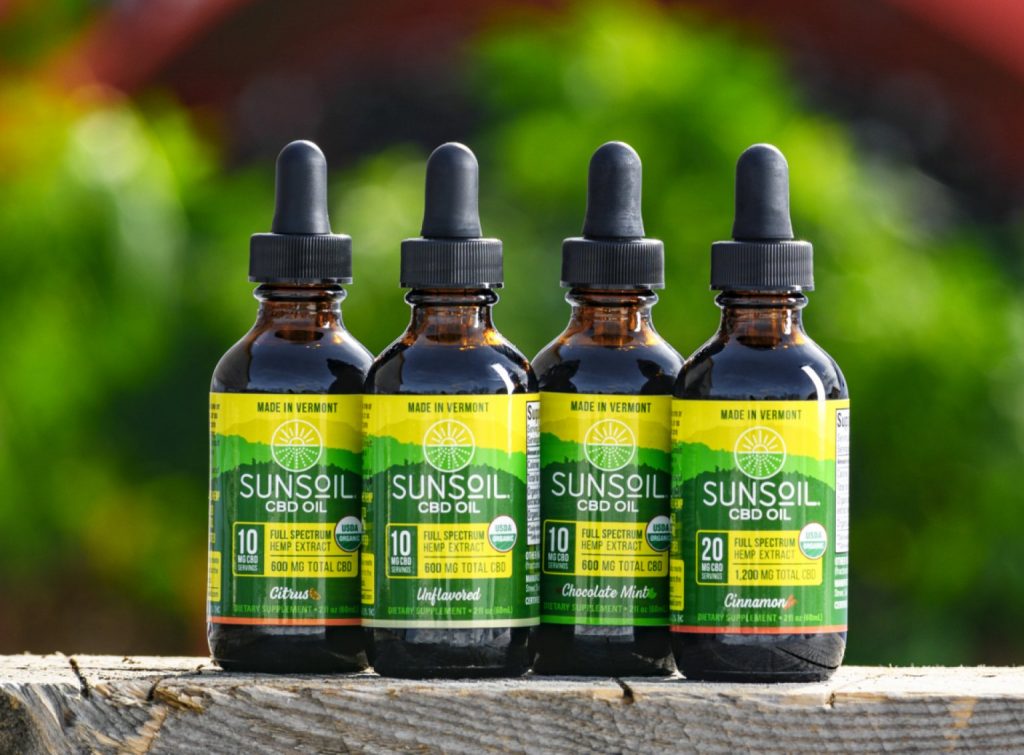 The CBD tinctures from Sunsoil are available in 2 potencies: 600 mg and 1200 mg. The 600mg one is natural with no flavors added, with citrus flavor, or with chocolate mint flavor. The 1200 mg tincture is only available in cinnamon flavor.
All the Royals have either MCT oil or coconut oil as their base. For the flavours the chocolate mint tincture has natural flavours and organic peppermint oil and the 1200 MG cinnamon tincture has cinnamon oil extract.
The brand recommends users who are starting out with CBD to begin with 10 mg dose from their 600mg tincture. For the users who have been using it for a long time and need a higher dose of CBD because of their conditions, can start with 20 mg dose from their 1200 mg tincture. The tinctures are also inclusive of calibrated droppers so you can easily assess accurate doses of CBD and adjust accordingly.
CBD capsules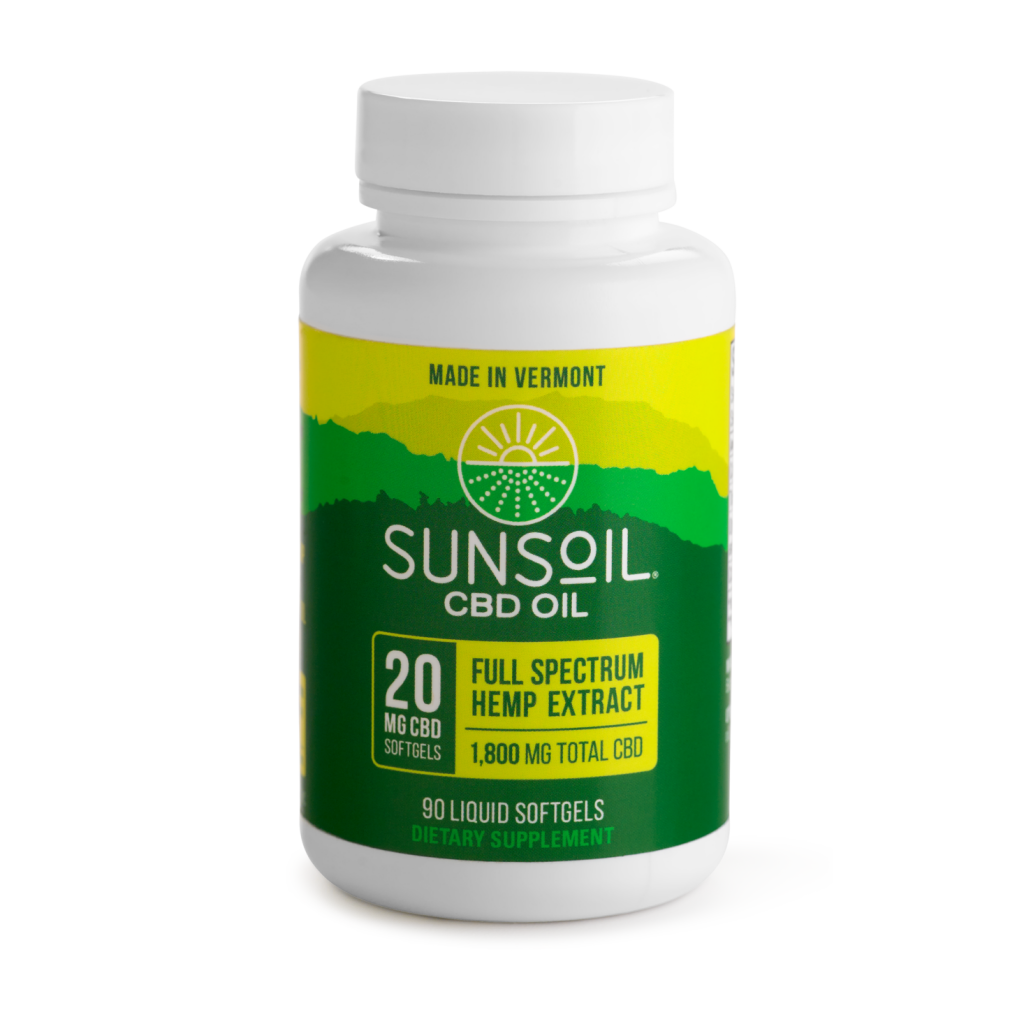 You can choose from CBD capsules or CBD softgels. Both of them have 20 mg of CBD each and come in bottles of either 30 pieces on 90 pieces. Some people prefer softgels because they are easy to swallow.
Softgels and capsules both have organic coconut oil as their base. The capsules are vegan but the softgel ingredients are unspecified.
CBD topicals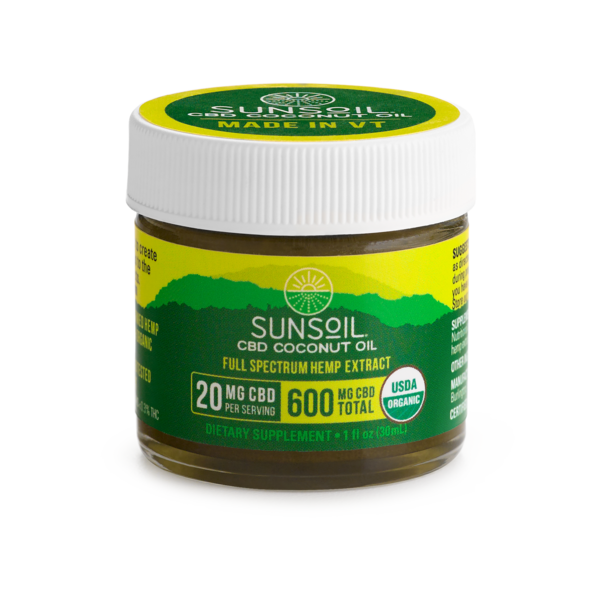 Their topicals are unique in such a way that they are edible as well. The CBD coconut oil can be consumed, used in food, or applied externally to humans and pets alike. The 30 ml bottle comes with 1 ml measuring spoon so you can accurately measure every 20 mg dose.
The Sunsoil CBD salve doesn't come with any added flavors and basically contains hemp extract and organic coconut oil.
Our Opinion on Sunsoil
Pros
The CBD oil capsules and other products are full spectrum and good quality
Budget friendly pricing
The company has its own farms that are USDA certified
Every stage in the manufacture process from cultivation to extraction and production are done in house
Double quality check with in house as well as third party lab testing
No synthetic flavors or additives
Products are available in natural as well as flavored versions
You can buy the products online as well as offline
Cons
The products are not suitable for people with coconut allergies since their base is either organic coconut oil or fractionated coconut oil (MCT)
The CBD oils don't have high potency
All products have traces of THC
Limited product options to choose from
Laboratory results are not transparent
Shipping options need improvement
Ingredients in softgels are not specified
Potency
Sunsoil products have less potency with 10 mg or 20 mg CBD for every dose. Hence this brand is optimal for users that are just starting out or for those users who just want to take them for general use and don't suffer from any specific medical conditions.
Though the products are available with flavor and without flavor is well, the flavors are limited only to some of the tinctures. For example, the highest strength CBD tincture with 1200 mg CBD comes with added flavor, and if you want to buy it without any added flavors the option is not available.
Orders and Shipping
Sunsoil only caters to US residents. Shipping is expedited since orders are shipped through USPS within 24 hours after ordering, but the options are limited. If you order products with the total value of less than $81 you'll have to pay $3.48 for first class shipping. If you want priority shipping you'll have to pay $6.10. You don't get any options of changing your shipping speed.
You can also buy Sunsoil products offline through local retailers but the website doesn't have any store locator to help you find a retailer near you.
Customer Service
If you have any query or issues regarding Sunsoil CBD products you will probably find it in its FAQ page, since they have an elaborate section dedicated to that. You can contact their customer support team via email or website from 8 a.m. to 8 p.m. Eastern Time, Monday through Friday. You can contact them through their helpline number mentioned in the website as well.
There is no return policy in Sunsoil. However, there is a refund policy in place where you can ask for a refund within 30 days of order if you are not happy with a product. You can also request for a product to be replaced within 30 days of order and the shipping will be free of charge.
Value for Money
There are many plus points of Sunsoil. It practices organic and eco friendly farming and extraction processes but still keeps one of the lowest prices per mg of CBD in the CBD market. A big advantage is that irrespective of the product form the price of CBD is the same: $0.05 per mg. Hence you get to choose which kind of product you want to use without worrying about the price factor.
The product line from Sunsoil also doesn't have products with higher potencies and variety, like vape oils and gummies. If you're looking for CBD vape oils we might have found just the perfect CBD vape company for you. Do check out these amazing CBD gummies that are taking the CBD market by storm. 
Hence this brand might not be suitable for everyone. But if you are new to using CBD products or looking for CBD products for general wellness purposes then you can go ahead with Sunsoil. It is a good budget friendly choice.
Conclusion
There are several qualities that make Sunsoil stand apart from the rest of the brands that make CBD products. Firstly, they have expertise in developing the different cannabinoids to achieve good quality in the products, and still keeping them budget friendly. Also, the hemp is cultivated in their own USDA certified farms, and the products are manufactured from it keeping accessibility to everyone in mind. Additionally, since every process and equipment is installed in-house, you can infer their dedication towards bringing the best quality products possible.
Their drawbacks are that they don't manufacture high potency CBD products, and the product selection is not varied. If you're looking for CBD consumables other than edible CBD topicals from Sunsoil, like flavorful and tasty CBD gummies, we suggest you check this link for a popular brand that makes CBD gummies that have potent versions as well! For Sunsoil's products that have THC traces, we suggest you first consult your doctor before buying, as they may trigger a false positive in drug tests.