In a nutshell
This brand provides a wide variety of products at an affordable price
From real time reviews we've gathered that it leaves the customer with very satisfactory customer service.
They have vegan friendly products so that everyone can enjoy it without worrying about the diet
A small line for pets is also there that uses no wheat, soy or other forbidden products for dogs
In terms of shipping they provide free service on orders over $89+.
Because they ship through US postal Service, orders that cost less than the aforementioned amount will be billed as per your standard shipping prices.
If you're not content with the product they also offer full refunds within 30 days of purchase.
FabCBD is a fairly new but excellent brand in the CBD industry. It's only focus is to cater to the needs of beginners and veterans alike. To make quality the hero, they only put out a handful of products compared to their contemporaries.
This company is the brainchild of a group of fitness, pharmaceutical and health enthusiasts who have been working in their fields for over twenty five years.
All of their products contain organically sourced ingredients and meet the requirements of vegan users. Because of their top notch customer service And commendable transparency in the case of safety they've quickly become a favorite in the CBD world.
In this article we're going to review their high performing products ourselves so you can get a fair idea of the ones that meet your needs.
Who are FabCBD ?
If you're a veteran in the CBD scene then we're almost sure that you must have come across fabCBD a couple of times already. If you're a beginner then you're probably wondering what the hype is all about. Well, we're here to clear your doubts. FabCBD is a crowd favorite CBD brand operating out of Tampa, Florida. The existence of this company has its root in compassion.
A few years ago during a tough situation
Josh Delaney, the founder of fabCBD was looking for ways to help his mother and grandmother. He was looking for an alternative to prevent them from getting addicted to over the counter pain meds. CBD was the frontrunner.
After his success he felt like it'll be unfair to not make this beneficial and efficient holistic approach accessible for those in need. This is how fabCBD came to existence.
According to them the hemp they obtain their extraction from is completely non – GMO ( genetic modification free) and one hundred percent organic.
To ensure the best quality possible they use the CO2 extraction method which is considered to be supercritical and eco friendly.
The reason behind using CO2 extraction is that it doesn't leave residues of heavy metal behind, providing the purest form of CBD possible.
In this method pressurised carbon dioxide is used to extract all the healthy cannabinoids including CBD from hemp. Waxes and Terpenes are also obtained which are used in CBD products as well.
They're applauded in the CBD community for their policy of absolute transparency. From this policy only you can gauge the amount of care they have for their customers. They always have pesticide inspection reports and spectrum analysis reports ready for the customer's education. These reports are provided by third party labs ( ProVerde in this case) after extensive testing. They're promptly updated at regular intervals to keep users in the know.
Aside from all of these amazing features they also have a column for real time feedback from customers. In this section you can read the reviews made by the users. We're sure it'll make choosing the products a whole lot easier.
fab cbd review products
As I said in the beginning FabCBD believes in quality over quantity. So to keep the quality and focus intact they are only producing three types of products as of now. They are – 
FabCBD oils
FabCBD chewable
FabCBD topicals
Read on to find out the review for each one.
FabCBD oils
In our opinion the best thing about these CBD tinctures is the fact that they Come in five amazing flavors! They have-
citrus
vanilla
mint and
berry
Natural
Apart from four flavored ones they have an unflavored tincture that gives off the earthy taste of hemp. If that's not your cup of tea, please make sure to try the flavored ones.
These are all full spectrum blends meaning that along with the hemp extract other elements that are important for long term wellness were extracted as well. So not only cannabidiol, you'll get the benefits of other healthy cannabinoids like CBG(Cannabigerol), CBC(Cannabichromene), THCV(Tetrahydrocannabivarin) as well.
These tinctures have been linked to relieving stress and pain related anxieties. So if you're not getting any sleep due to higher stress levels than this'll put you to sleep. It's not psychoactive so that you can get a good night's rest without getting high.
Also if you're under the weather this tincture will surely help you get out of bed and get moving.
It's also very helpful as an anti inflammation supplement. This hundred percent organic tincture is completely devoid of chemicals and is a reliever of joint pain caused by chronic painful conditions like arthritis.
Made by a group of dedicated fitness enthusiasts, pharmacists and nutritionists, Fab has some other perks for you as well. If you're looking for a healthy way to lose weight then this can be a very good support. Consuming CBD oil suppresses appetite, regulates your digestive system and gives a much needed boost to the immune system as well. All while keeping you healthy. So no need to put yourself on painful diets or exercise for hours on end till your joints creak. Just mix this in your morning smoothie or put a dropper full under your tongue before going to sleep and you're good for the rest of the day.
There's trace amounts of THC involved thanks to the CO2 extraction method. 0.3% to be exact which is the federal limit and completely legal. This way you'll be able to enjoy all the benefits cannabinoids have to offer.
The mode of consumption is sublingual. You have to put the tincture under your tongue. It is considered to be the fastest way for it to take effect. It's been proven that sublingual absorption is way more efficient than oral consumption.
The CBD tinctures are available in four potent forms.I.e – 150, 300, 600, and 1,200 milligrams.
The recommended dosage for these tinctures is one dropper full per day, but in case of any doubt please consult with your physician. Anyway, One dropper consists of 0.5ml CBD tincture. If the pain still persists after administering it, it's safe to ingest another dosage of it.
Last but not the least, it's available in different strengths so it all comes back to the preference of the customer. Choose the one that fits your needs like a glove.
Price
It's available in four strengths.
300mg-$39
600mg- $59
1200mg-$99
2400mg- $129
FabCBD chewable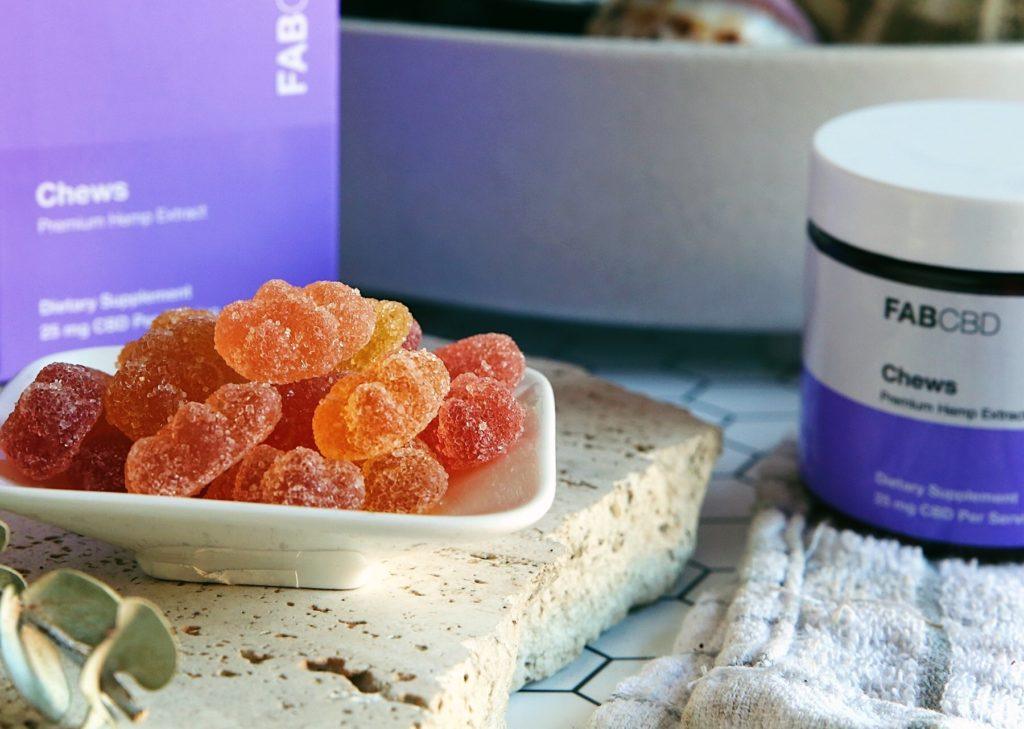 Now onto the tasty chewables by FabCBD. They are also made from full spectrum extraction of Colorado hemp. FabCBD only sells edible non- GMO( genetic enhancement free) and vegan friendly chews or gummy bears. Each bear contains around 25mg of cannabinoids. And each tub contains thirty chewables. It's a delightful amalgamation of taste and health.
It's vegan so it consists of organic cane sugar which is why it tastes a little different than your store bought gummies. They also contain pectin and citric acid. They're CBD isolates which means that they're completely THC free so you can munch on then to your heart's content without worrying about testing positive in drug tests. 
You can pop a few after your daily runs to get rid of that post cardio fatigue or you can eat it as a snack for it's amazing taste. The fruit flavored adorable bear shaped candies are obviously a plus.
The only downside is that the gummies are produced in a facility that tends to work with gelatin extracted from the skin of collagen rich fish. They also get boxed there among soy, tree nuts, and milk products. So if you have any allergies then please be careful as prevention is key
But these are best used in case of individuals who have difficulty falling or staying asleep. If you're one of them, eat a bear and just sit back, relax and wait for a sleep to roll in.
Price
These adorable gummies are priced at $59 for one tub containing 750 mg CBD.
FabCBD topicals
In the topicals section FabCBD is viewed to be rich in quality. They proudly carry a muscle and joint cream that has been proved to be very effective for aches caused by chronic pain and arthritis. It's a mixture of cannabinoids, terpenes and flavonoids. 
This cream contains ingredients like aloe vera, cocoa butter, extracts of blood orange and chamomile. A concoction of these elements smells blissful while getting rid of your pain and revitalizing your skin at the same time. Other ingredients include citric acid, olive oil and pure distilled water.
This cream is full spectrum meaning that it contains trace amounts of THC.
The best way to benefit from this cream is to just take a dab of it and apply it on the exterior area where the pain is located and softly rub it into the skin.
It's guaranteed to have a faster reaction as creams operate on a tissue level whereas other mediums need to go through the digestive system first.
If the pain doesn't subside within a few minutes then there's no harm in applying another dab. After that the relief will surely start. Make sure to keep your timings consistent.
Price :
It comes in a tub which contains 600mg of CBD. It costs $49.
Apart from these three categories FabCBD has recently expanded into CBD for the pets sector as well. It has come up with dog treats made without soy, dairy and wheat as these three products have been proven to be harmful towards the canine digestive system. They contain hemp extracts that keeps their tummy healthy and happy.
The dog treats are divided in three categories –
Calm and cool ( peanut butter apple)
Active Immune (Salmon)
Skin and Coat (Chicken)
These are all broad spectrum meaning that they're THC free. They do contain other cannabinoids and terpenes which are beneficial for your furry friends.
All the treats contain around 3 mg of CBD each. They cost $34 a bag containing 255gram each. You can also buy them in a bundle, which costs significantly less at $87.
Pros :
Totally natural and organically cultivated
Flavored and unflavored both available
CO2 extraction method
Lab reports available and updated
Pesticide free
Loads of terpenes
Both full spectrum and CBD isolate available
Simplicity
Mid tier cost
Vegan friendly
Gluten free
Free shipping
Cons:
Takes a while to kick in
No vape oils or edible products available
No isolate oils available
Unclear information about the number of gummies in the container
Final words
If you're looking for a brand that will provide you with high quality CBD products and is completely safe, then FabCBD is the brand to look out for.
They care enough about their customers to educate them and be up front with them. The cost is low to mid tier for ample amounts of product. So it's cost effective as well. What's not to love?